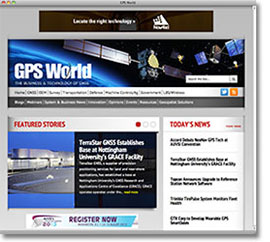 Cleveland — August 19, 2013 — GPS World, the industry-leading publication and website focused on GNSS, has launched a new, improved website redesign at www.gpsworld.com. The site offers a clean, fresh look with an easy-to-navigate layout and the introduction of useful features.
The redesign includes technological and aesthetic enhancements that provide improved navigation, better organization of content, and make use of current web technologies. GPS World intends for the new design to better meet the needs of its readers and visitors by making the site more functional, intuitive, and appealing.
Enhancements to the website include:
A rotating "Featured Stories" slider so visitors can quickly see important content
"Today's News" with at-a-glance headlines
A Video Spotlight featuring news and advertiser-sponsored videos, connected to GPSWorldTV, the magazine's YouTube channel
An up-to-the-minute Twitter Feed
"I'm excited to unveil GPS World's new website design," said Alan Cameron, GPS World editor and publisher. "We wanted to create a site that provides a positive experience for our visitors, providing them with the news they need when they need it, as well as thoughtful commentary on the industry."
Hand-in-hand with the site redesign, the GPS World newsletters have been given a facelift. The weekly Navigate! newsletter was the first to show off a new attractive, crisp design. The monthly, market-specific newsletters will follow in the coming month, including Survey Scene, Professional OEM, Defense PNT, GSS Monthly, GeoIntelligence Insider, and the newly combined Wireless LBS Insider (previously two separate newsletters).
GPS World's sister site, Geospatial Solutions, will receive a similar redesign in the coming weeks.
---
About GPS World
GPS World, published by North Coast Media, is the leading publication covering the U.S. Global Positioning System, Russia's GLONASS constellation, Europe's Galileo satellite navigation system, China's Beidou/Compass system, and Japan's QZSS. GPS World was the first publication in the market, launched over 20 years ago, and continues to be the market's leading publication. GPS World is also the only publication in the industry that offers an audited circulation.
About North Coast Media
North Coast Media, LLC (NCM) is the largest business-to-business (B2B) publishing company headquartered in Cleveland. The company employs more than 45 professionals who collectively possess hundreds of years of experience creating and delivering unparalleled media — from industry-leading print magazines, to websites and enewsletters, to social media and mobile solutions, to exclusive industry research, custom products and one-on-one buyer-seller networking events. NCM's flagship brands include GPS World, Landscape Management (LM), Pest Management Professional (PMP), LP Gas, Pit & Quarry and Golfdom.